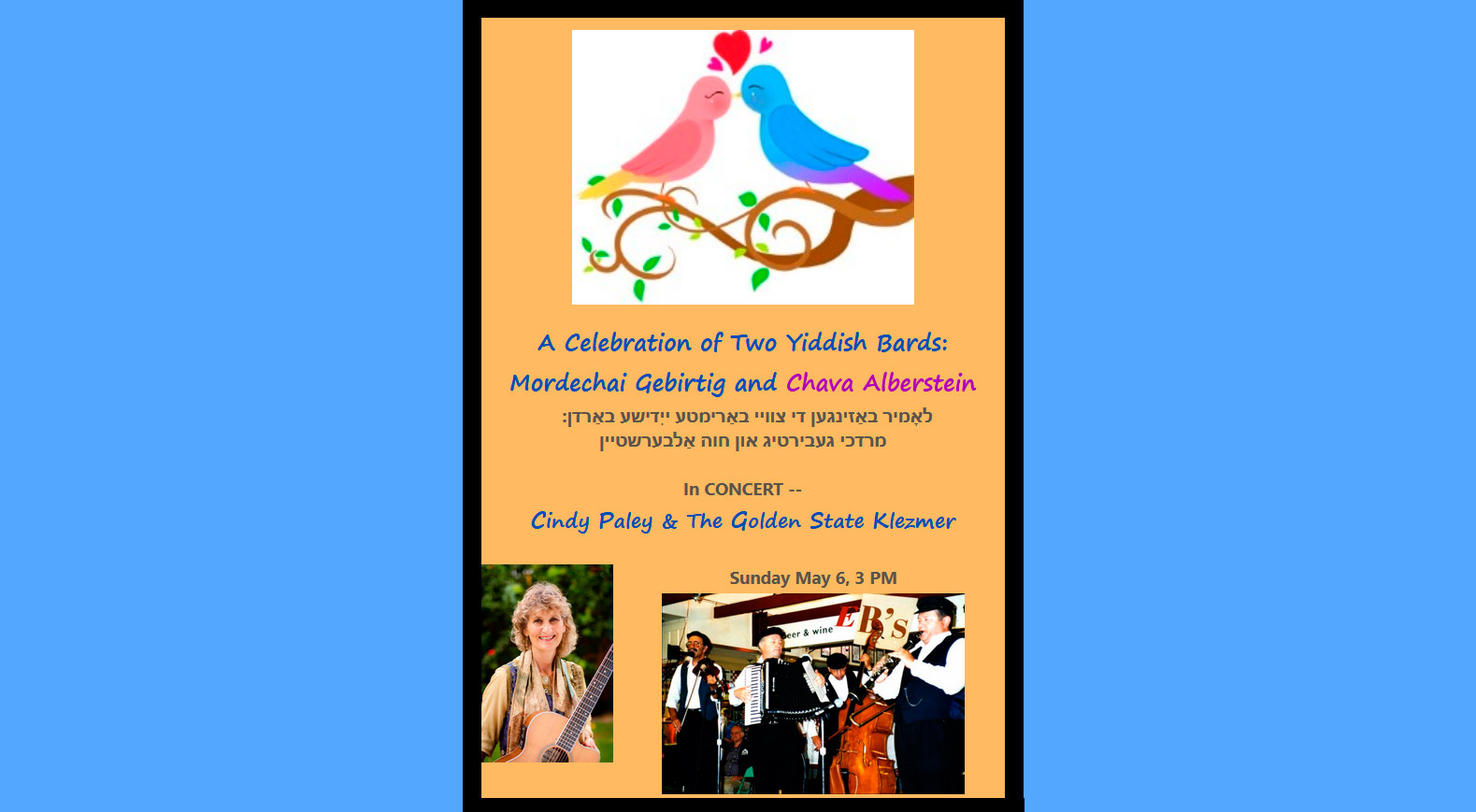 Mordechai Gebirtig (1877 – 1942) was the most popular and beloved Yiddish songwriter of the 20th Century.  His songs express the heart and soul of each person and at the same time reflect the feelings and striving of the Jewish people as a whole.  So popular were his songs that many were mistaken for folksongs.  Among them are
Reyzele (Reisl) — about  young love; 
Yosl Ber — about joining the army, and  
Undzer Shtetl Brent (Our Town is Burning) 
They are by turns tender, pithy,  and prescient.
Chava Alberstein is perhaps best known for being the great diva (like Joan Baez) of Israeli popular music.  But during her entire career of performing in Hebrew, she  also performed and recorded Yiddish songs.  Her most recent forays into Yiddish were composing and arranging original music to the words of famous Yiddish poets.
The beautiful songs of these two outstanding artists will be performed by acclaimed singer Cindy Paley, accompanied by Miamon Miller (violin), Isaac Sadigursky (accordion), and Zinovy Goro (clarinet).
DON'T MISS THIS WONDERFUL MUSICAL EVENT!
WHEN:  Sunday, May 6, 3 PM
װוּ׃  WHERE:  Santa Monica Synagogue, 1448 18th St. 
Santa Monica (at Broadway)
װיפֿל׃  ADMISSION:  $18 General              $16 Members
FREE PARKING     REFRESHMENTS
Co-sponsored by the Santa Monica Synagogue
Supported in part by
Ruth Ziegler Foundation
Baran Family Foundation
Nurit & Rick Amdur
Webstation One
and Friends and Members of CIYCL