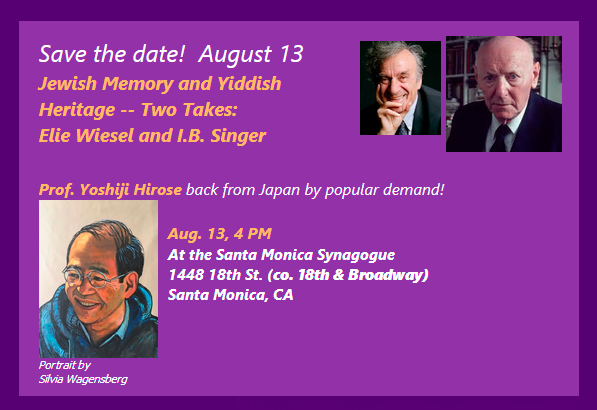 Only through memories can the present and past be bridged, and for Eli Wiesel, Yiddish is integral in conjuring up the past of Holocaust victims, Jewish martyrs, and the glorified religious life of traditional Jews.
I.B. Singer insists likewise in his Nobel Lecture:
"(Yiddish) was the tongue of martyrs and saints, of dreamers and Kabbalists – rich in humor and in memories that mankind may never forget.  In a figurative way, Yiddish is the wise and humble language of us all, the idiom of a frightened and hopeful humanity."
These two influential Jewish writers had totally different philosophies.
Don't miss this unique and fascinating talk by Prof. Hirose, one of the world's leading experts on Jewish literature and I.B. Singer in particular.
Prof. Yoshiji Hirose is Chairman of the English Dept. at Notre Dame Seishin University in Okayama, Japan, and the author recently of Yiddish Tradition and Innovation in Modern Jewish American Writers.  To view his 2016 talk for CIYCL on "The Unsung Japanese Hero Who Saved Thousands of Jews", click here.
 װו      LOCATION:
Santa Monica Synagogue    
1448 18th Street    Santa Monica
װען       WHEN       
 Sunday, August 13,   4 – 5:30 PM
 װיפֿל    ADMISSION*:       
$ 10  General    
$ 8  CIYCL & SMS Members
Free to Full-time students
Refreshments
Free Parking
TO RSVP:
[email protected]
310-745-1190