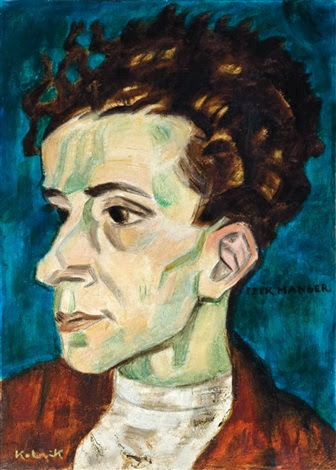 Itzik Manger portrait by Arthur Kolnik
A celebration of the famous Yiddish Bard on his 120th Birthday. An international ensemble of Yiddish performers and experts delightfully reveal why Itzik Manger (1901 – 1969) is such an enduring inspiration.
Join Mike Burstyn, Shura Lipovsky, Dr. Helen Beer, Ruth Levin, Mendy Cahan, Binyumen Schaechter, Gitl Schaechter Viswanath, Shane Baker, Miri Koral, among others, for readings from Manger's tongue-in-cheek poetry and prose, music, and even a mini song workshop!
This presentation will be in Yiddish, with English subtitles as possible.
Register here for this event
Co-sponsored by:
Congress for Jewish Culture דער קולטור קאָנגרעס
League for Yiddish די ייִדישע ליגע
Yung Yidish Tel-Aviv/Jerusalem יונג ייִדיש
Ot Azoy London