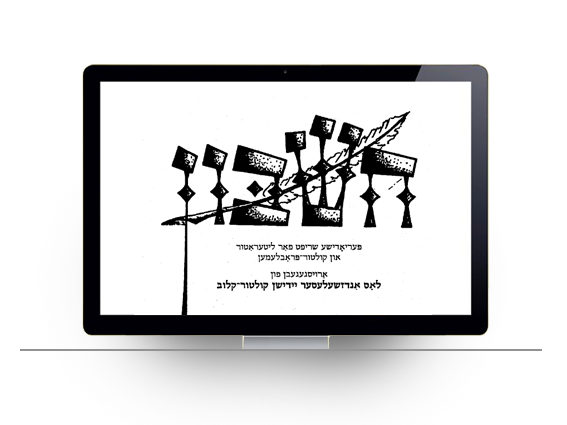 Yiddish Literary Journal
Of Los Angeles Yiddish Culture Club
(1946-2007)
*This digitization project – the first complete Yiddish literary journal made available on-line — was made possible by grants from the UCLA/Mellon Program on the Holocaust in American & World Culture, the Ruth/Allen Ziegler Foundation; and support from the UCLA Center for Jewish Studies and the Loyola Marymount Department of Jewish Studies. All of the archive (150 issues from 1946 – 2007) is currently available on-line.
This digitized archive continues to be an invaluable resource for scholars world-wide.
Based on a talk presented by CIYCL Director Miri Koral at "150 Gems: In Celebration of the Literary Journal Kheshbn", May 16, 2009 at the LA Yiddish Culture Club.
In January, 1946, three editors – H. Rosenblatt, J. Friedland, and Eliahu Tenenholtz, wrote in their introduction to the very first issue of the Yiddish literary journal Kheshbn — "This is not a summary – a sakh-hakl – but a reckoning, a kheshbn. And between the start of 1946 and the end of 2007 – 53 years — there were 150 such reckonings, such kheshbns.
The Yiddish-loving community in Los Angeles- a minority of a minority – enjoyed a great cultural richness in the newest such community in the Americas. The other centers – New York especially, Chicago, Philadelphia, Montreal, Buenos Aires – had long-established traditions of a Yiddish press and cultural activities, often dating from the first waves of immigration in the late 19th century.
In contrast, the Yiddish community here developed largely with the post-War LA boom, though the LA Yiddish Culture Club was actually founded and active in 1926. The 1946 founding of Kheshbn was in part a response to the loss of the vital roots of the great 20th-Century Yiddish civilization in Eastern Europe, and the journal was often shepherded not coincidentally by the late influx to Los Angeles of Eastern European survivors of that civilization.
What made Kheshbn unique?
— It is one of the few Yiddish journals in the world that is in all meanings of the word "literary". This is in terms of content – poems; short stories; serialized memoirs; one-acters; essays on art, philosophy, religion, literature; critical reviews of new Yiddish books. It drew greatly upon the rich sources found locally – a very good thing, the way today's retailers like to feature "locally-grown produce" – such as the poets H. Rosenblatt, Bracha Kudli, Peretz Hirschbein and his poet wife Esther Shumiatcher, later Moshe Shklar, Malka Heifetz Tussman; and the essayists A. Babbitch, Isaac Neuman, Avrum Golomb, our own Lilke Majzner, just to name a very, very few.
— The hige or "local" nature of the contributors often led to essays about the local Jewish community, or to works inspired by the unique local environment – like experiences of the desert, the Sierras, or a new freeway cutting through a neighborhood.
— The hallmark of Kheshbn is its high literary standards. The dedicated editors over the years -(Rosenblatt, Friedland, Tenenholtz, S. Shlosser, S. Weiss, among others) to the last -Moshe Shklar held to this value insistently. This is not to say that every poem, every story, every essay printed within its rather diminutive 6 x 9 ½ inch covers is a gem. There's no journal in the world that could boast that. Yet, in leafing through its pages one can expect to be captivated, surprised, enlightened — for the heyday of Kheshbn parallels the height of post-WW II Yiddish writing, with its gorgeous constellation of writers to draw upon.
— In keeping with its high literary standards, Kheshbn showcased the greatest living Yiddish writers of the 20th century: H. Leivick, Chaim Grade, Rokhl Korn, Avrum Sutzkever, Aaron Tseitlin, Melekh Ravitch – again, as just a few examples. And it reprinted the works of these and other greats, including the dray klassikers (Mendele, Sholem Aleichem, Peretz) often in honor of their yortsayts, or, as is the case with many of the Soviet writers, in commemoration of their collective murder – Itsik Fefer, Perets Markish, Dovid Hoffstein, among others.
— Kheshbn also offered a chance for writers of a more "budding" nature to appear in print. Included among them – Sarah Moskovitz, Pesach Malevitch, Jacob Lewin, and Miriam Koral.
— Kheshbn had a roster of international contributors. In one issue one might have authors-in addition to those "locally grown" — from: Argentina, Israel, Paris, London, New York, Melbourne, Montreal, and even South Africa. The readership of course paralleled these same countries and cities, and beyond. This is undoubtedly a reflection of the unique characteristic of the Yiddish-speaking world – and what is its great strength – Yiddishland is nowhere and everywhere at once, lacking boundaries it transcends them all.
— Last but not least, Kheshbn is a comprehensive chronicle of an active and intellectually thirsty and historically thriving LA Yiddish Culture Club – a chronicle of its Saturday cultural evenings, its Monday literary evenings, its Sunday afternoon gatherings, greetings from its members, and, in the form of obituaries and memorials, the inexorable passing of its members.
The sad thing – and it is truly a heartache – is that, at least in this city of more than half a million Jews –Kheshbnis irreplaceable. We simply don't have the same koykhes – in terms of the Yiddish literary discernment (evinced by Moshe Shklar, for example); in terms of locally grown stellar Yiddish writing; and in terms of the energetic and monetary resources.
But let us take heart. For we are celebrating 53 years and 150 issues – 150 gems of Kheshbn hard copy. And we're celebrating the fact that thanks to the UCLA/Mellon Program on the Holocaust in American & World Culture and the UCLA Center for Jewish Studies — all 150 issues of Kheshbn will soon be available on-line, fully digitized, and searchable. What this means is that the wealth, the depth of the talent and knowledge embodied in the full spectrum of Kheshbns will be easily accessible, from anywhere in the world on the UCLA Digital Library site.