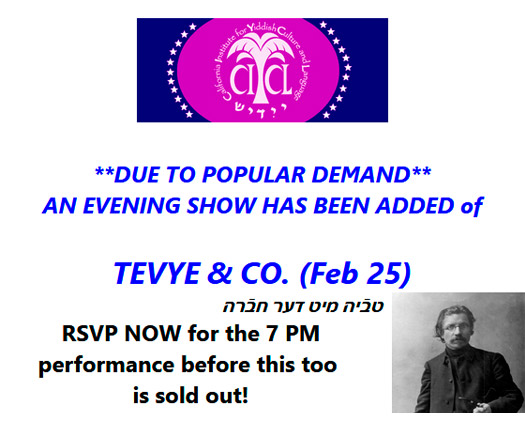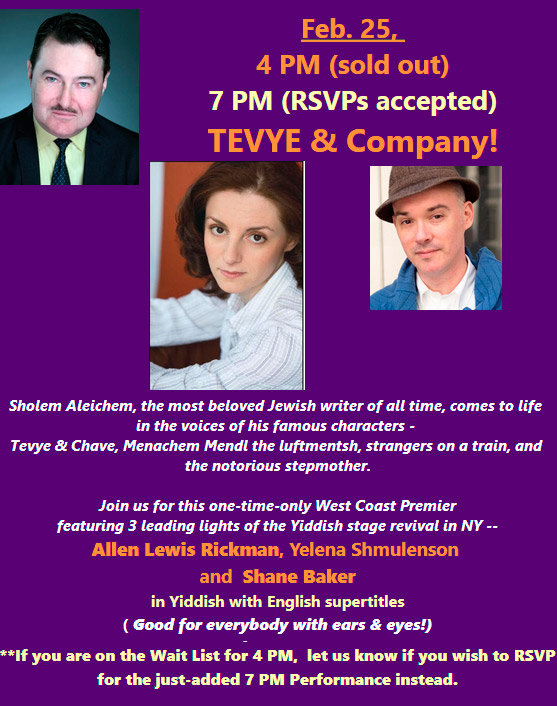 ***
 װו  LOCATION:
ROYCE HALL – Room 314
PARKING:  Structure 5 is unavailable.  Please use Structure 2,
Pay-by-Space Parking
Enter Westholme & Charles E. Young Dr. East
װען       WHEN       
4 PM (sold out) and 7 PM (RSVPs still being accepted)
***
 װיפֿל     ADMISSION*:    FREE   
Suggested Donation  $ 18 General/ $15 CIYCL Members    
– Performance is in Yiddish with easy-to-read English supertitles –
***  
PARKING:  Structure 5 is unavailable.  Please use Structure 2,
Pay-by-Space Parking
Enter Westholme & Charles E. Young Dr. East
SEATING LIMITED
Our co-sponsors
UCLA Mickey Katz Endowed Chair in Jewish Music
UCLA Alan D. Leve Center for Jewish Studies
---
ABOUT THE PERFORMERS:
ALLEN LEWIS RICKMAN is an actor, writer, and director, whose credits include the Coen brothers' Oscar-nominated A SERIOUS MAN, Barry Levinson's YOU DON'T KNOW JACK (with Al Pacino), John Turturro's FADING GIGOLO (with Woody Allen), and recurring roles on BOARDWALK EMPIRE and PUBLIC MORALS. He co-adapted and directed the Drama Desk-nominated Yiddish PIRATES OF PENZANCE, and has acted on Broadway, Off Broadway, in regional theatre, and in Yiddish theatre. Plays he's written have been produced in France, Denmark, Spain, Luxembourg, Sweden, and New Jersey; among those published is his revue THE ESSENCE: A YIDDISH THEATRE DIM SUM, which appeared in the anthology "Yiddishkeit".
YELENA SHMULENSON is perhaps best known as the icepick-wielding wife in the Coen brothers' Oscar-nominated film A SERIOUS MAN.  Her other film and TV credits include ORANGE IS THE NEW BLACK (recurring role as 'Inmate Boyle'), BOARDWALK EMPIRE (as 'Mrs. Manny Horvitz'), CHICAGO MED, Robert De Niro's THE GOOD SHEPHERD, ROMEO & JULIET IN YIDDISH, and CHINESE PUZZLE (w/ Audrey Tautou).  Stage credits include five seasons Off-Broadway with the Folksbiene, two at the Ellis Island Theatre, THE GOLEM OF HAVANA (Miami New Drama), COVERS, (New York/ St.Petersburg/ Moscow/ Montreal), THE ESSENCE: A YIDDISH THEATER DIM SUM (New York/ Stockholm/ Toronto/Bucharest, etc.)  She has also been a Yiddish coach/translator for numerous projects, has won three Earphones Awards for her recorded books (in English), and is fluent in five languages.
SHANE BAKER is Director of the Congress for Jewish Culture, a 70-year old Yiddish arts organization in New York City.  In 2016 he completed a world tour on behalf of the Congress with performances, lectures and classes celebrating Sholem Aleichem's 100th yortsayt.  In 2016-17 he appeared to great critical acclaim in the off-Broadway Yiddish production of GOT FUN NEKOME (God of Vengeance); and as Vladimir in his own Yiddish translation of Samuel Beckett's WAITING FOR GODOT for the play's Yiddish world premiere in two Off-Broadway runs and tours to Enniskillen, Northern Ireland and Paris, France. He recently appeared (in English!) in Charles Ludlam's CONQUEST OF THE UNIVERSE, OR WHEN QUEENS COLLIDE at La Mama in New York.