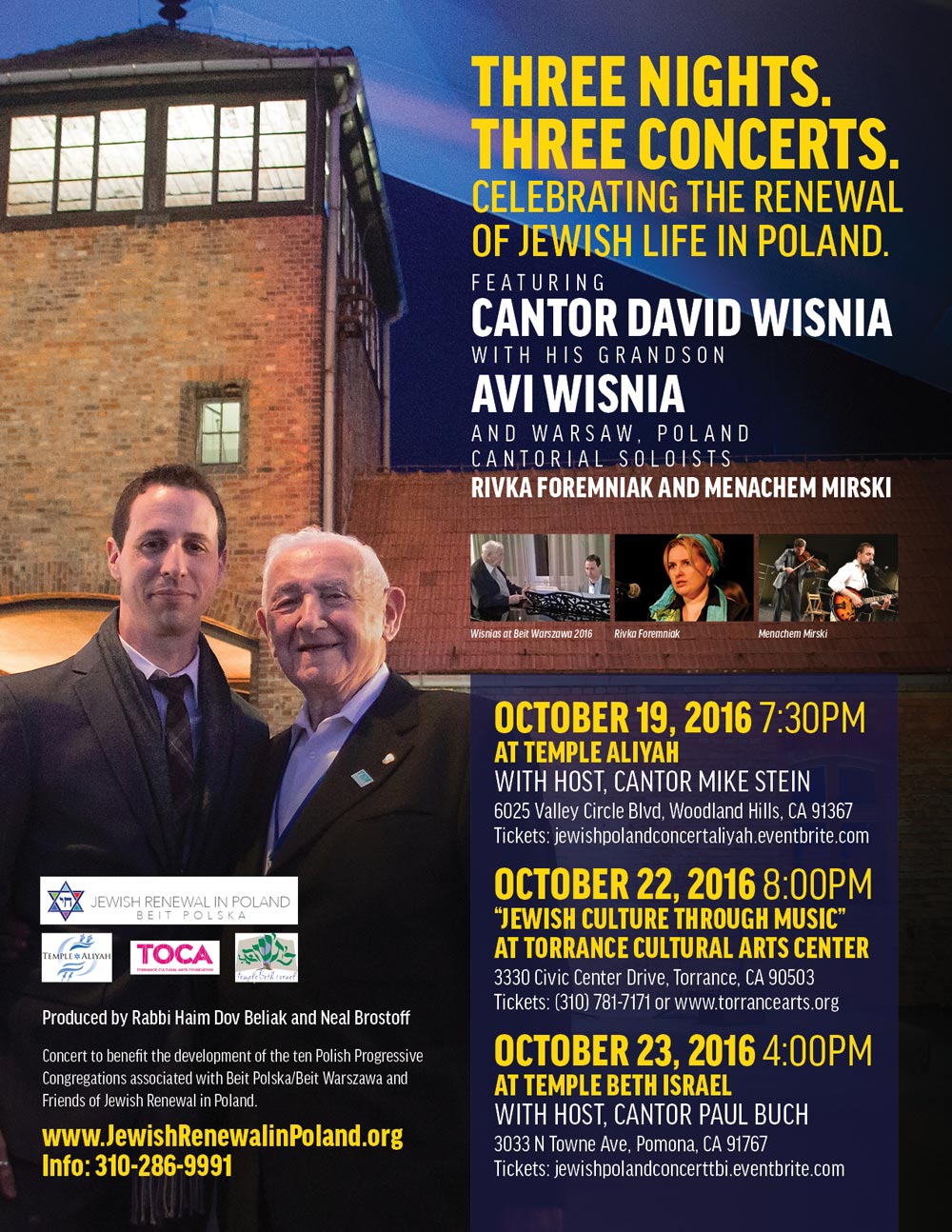 October 19 (Temple Aliyah, Woodland Hills)
October 22 (Torrance Cultural Arts Center)
October 23 (Temple Beth Israel, Pomona)
Jewish Renewal in Poland is proud to present three concert events in the Los Angeles area featuring Cantor and Holocaust survivor David S. Wisnia accompanied by his grandson Avi Wisnia, with contemporary Polish cantors Rivka Foremniak and Menachem Mirski. The concerts will benefit the work of the Friends of Jewish Renewal in Poland. 
About The Program:
The concerts will showcase Cantor David S. Wisnia, a 90-year-old survivor of the Auschwitz Concentration Camp. As a Polish youth, Wisnia sang in the famed Tlumacke Synagogue with renown Cantors Gershon Serota and Moshe Kussovitsky. He continued to use his voice during World War II and his internment in Auschwitz, leading to his ultimate survival. Wisnia's broad ranging repertoire connects Poland's Jewish musical past with the country's current emerging moment of Jewish renewal. (www.onevoicetwolives.com)
David Wisnia's grandson, singer-songwriter Avi Wisnia, will accompany his grandfather during the concerts as well as perform his own original music, with influences ranging from liturgy to contemporary jazz (www.aviwisnia.com), keeping the Jewish musical tradition alive, from generation to generation. During the program, the Wisnias will also recount their recent travels to Poland, performing in Warsaw, and teaching at Beit Warszawa. http://rabbibeliakblog.org/david-wisnia-88-child-prodigy-auschwitz-survivor-cantor-joined-by-grandson-avi/ 
The program also features Rivka Foremniak and Menachem Mirski, popular prayer leaders in Beit Polska's community of lay cantors. The two visitors from Warsaw and Gdansk, respectively, are among the ten prayer leaders trained by the lay cantor's program originated by Princess Irina zu Sayn-Wittgenstein-Berleburg (http://rabbibeliakblog.org/lay-prayer-leaders-shatzcantor-development/). Menachem Mirski's musical repertoire includes cantorial music as well as a unique niche of Polish-Jewish Klezmer music.
Hazzan Michael Stein of Temple Aliyah in Woodland Hills is the director of the lay cantor's program, having visited Poland twice recently to teach. Stein is one of the producers of a new posthumous album of Theodore Bikel's music and wisdom, While I'm Here. The late Theodore Bikel was an animating spirit in Jewish Renewal in Poland. These concerts will also celebrate the release of this album.
(http://www.jewishrenewalinpoland.org/programs/prayerleaders/) (http://rabbibeliakblog.org/concert-of-mike-stein-beit-warszawa/)
Cantor Paul Buch is an ordained cantor and the leader of Temple Beth Israel of Pomona's musical life. His music brings joy to the Pomona and San Gabriel Valleys where he hosts Jewish musical events for the entire community and leads worship. Temple Beth Israel is the first congregation to twin with Beit Warszawa. (http://rabbibeliakblog.org/twinning/).
Ethnomusicologist Neal Brostoff has been active in teaching the lay cantors and arranging the three benefit concerts and the program notes. Additional musical support at the performances will be provided by instrumentalists from the UCLA undergraduate jazz program and the Thelonious Monk Institute.
Concerts Sponsored by: Jewish Renewal in Poland/Beit Polska, Temple Aliyah of Woodland Hills, Torrance Cultural Arts Center, Temple Beth Israel of Pomona, and the UCLA Mickey Katz Endowed Chair in Jewish Music
About Jewish Renewal in Poland:
We are fostering a vibrant renewal of Judaism in Poland. Working together, the Friends of Jewish Renewal in Poland along with the World Union for Progressive Judaism and the European Union for Progressive Judaism are opening the doors of Judaism to many of Poland's estimated 200,000 potential Jews and building the framework for renewed religious life. Our outreach programs focus on educating individuals and helping them build Progressive religious communities, or havurot, which are incipient congregations. So far we have established havurot in numerous Polish cities. Some are on their way to becoming congregations. Jewish Renewal in Poland embraces continuity with the Jewish past in Poland.
Tickets & Concert Information:
October 19 at Temple Aliyah
6025 Valley Circle Blvd., Woodland Hills, CA 91367
jewishpolandandconcertaliyah.eventbrite.com
October 22 at Torrance Cultural Arts Center
3330 Civic Center Drive, Torrance, CA 90503
310-781-7171 or www.torrancearts.org
October 23 at Temple Beth Israel
3033 Towne Ave. Pomona, CA 91767
Jewishpolandconcerttbi.eventbrite.com